Welcome to my Web site, Massage-StLouis.com. My name is Alice Sanvito and I am a licensed massage therapist. In practice in St. Louis since 1991, the focus of my training and practice has been on the problem-solving aspects of massage in addition to offering massage for relaxation and wellness..
Training
After graduating from Kaleidoscope School of Massage, which offered the most comprehensive training available in St. Louis at that time, I continued my education in sports and medical massage. In particular, I have extensive training in Russian Medical and Sports Massage and Neuromuscular Therapy, also known as Trigger Point Therapy. I have spent 130 hours studying gross anatomy under the direction of Dr. Craig Lawson, M.D., assistant professor of anatomy at St. Louis University Medical School, and have been a staff member of the NMT Center in St. Petersburg, FL, since 1994.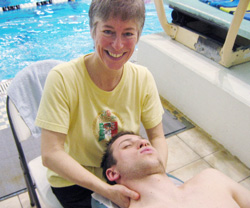 I actively studied for ten years with the renowned Zhenya Kurashova Wine, who brought Russian Massage to the United States. I was one of four therapists in the United States selected by Zhenya to be trained as instructors for the Kurashova Institute for the Study of Physical Medicine.
In all areas of my education, I have sought modalities that are effective, efficient, and evidence-based, and I have sought instructors who are the best in their fields.
Experience
My experience has included working as the massage therapist for five shows of Cirque du Soleil and two shows of Riverdance. I have worked with the Williams College Swim Team during NCAA finals in St. Peters, MO, and the Savannah College of Art and Design during NAIA finals. Clients have included a number of elite athletes, particularly runners, swimmers, and bicyclists.
Focus
I have a particular interest in pain relief and management and have helped many individuals reduce or eliminate pain problems that have often plagued their lives for years. I believe client education is an important part of recovery and look for ways in which the client can help themselves after leaving my office. I am happy to refer clients to other health care professionals – M.D.s, chiropractors, physical therapists, etc. – when it seems appropriate.
Community
I currently teach a Massage for Couples class twice a semester at Forest Park Community College and maintain a private practice in Richmond Heights, MO. I have been a professional member of the American Massage Therapy Association since 1991.